Read the full article here: 
5 Ways to Kickstart Your Weight Loss Motivation & Rev Up Your Health
Finding the motivation to make change can sometimes be the biggest hurdle.
BY SLOANE DAVIS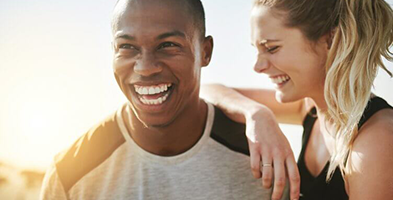 ---
I

t's impossible for even the most successful people to be motivated all the time. After all, we are only human. To stay motivated you need to be interested, on track and engaged.

Everyone needs a little push now and then, including myself. There are days I am super charged to eat healthy and get to the gym and work hard, and other days I feel like throwing in the towel and simply want to sleep all day. Most days I get up and put in the work because I know it yields results. When you see results from the work you put in, it's much easier to stay motivated.

Here are five powerful ways to kickstart your weight loss motivation in order to rev up your health:



1. Get physical!

 According to the National Institute of Health,"Physical activity is a great way for adults to gain substantial health benefits and maintain independence." Instead of trying to find time to exercise, make time to exercise part of your day. The sooner it becomes part of your daily routine the faster you will benefit from the physical exercise. The longer you can stick with it the more you will be able to make it a regular habit and part of your lifestyle.



2. Find a plan that works for you.

 When you go in with a plan, you are more likely to adhere to it. After years and years of exercising, I still always make sure I have a plan to go into the gym with and follow. I feel more accomplished to know that I met my goal and accomplished what I set out to do. When you reach your daily goal, you are more motivated to keep going.



3. Get your nutrition in order.

 Eating healthy and losing weight does not have to be complicated. The more educated you become in knowing how to properly fuel your body the more results you will see over time.



4. Establish a healthy relationship with food.

 Understand that there are no "good" and "bad" foods. Yes, there are foods that are healthier for you that you should incorporate on a daily basis, but your diet shouldn't be restrictive and work against you. When you are able to eat all types of foods you take out the need to binge; hence adhering to a plan which you can sustain for a long period of time. The longer you can maintain your plan, the healthier you become, the more results you will see.

You do not need to cut carbs in order to lose weight. Fat does not make you fat. "Natural" doesn't necessarily mean "healthy." This is having a healthy relationship with food. To be able to eat and lose weight. The more educated you become, the more you can hold on to a plan that works. The more results you see, the better you will feel to keep going and stay motivated.



5. Involve yourself in a support group.

 Your motivation will jumpstart if you are able to connect with other people going through the same process. You will feel good about your progress, know you are not alone, have hundreds of others who are following the same journey as yours and are there for support. You will also get great tips and ideas that will help with your plan. One of the many benefits of an effective plan is a private online community with hundreds of others following the same path. Studies show that working with others, having a partner, and knowing you are not alone in your journey is a very important role in success.

Weight loss, constantly being motivated and taking charge of your health, can be a daunting experience; but there is no reason it can't be done. Just because something isn't easy doesn't mean you cannot do it. Follow these tips to help you stay motivated and ultimately reach your goals.

Sloane Davis is a Certified Nutritionist and Personal Trainer, helping hundreds globally get into top shape. Sloane has a B.A. from Syracuse University and is accredited through ISSA with her degree in Nutrition and Personal Training. Sloane developed Pancakes and Push-ups to teach others to have a healthy relationship with food. For our high acclaimed Kickstarter Plan click here. Sign up for our training programs and visit www.pancakesandpush-ups.com for new articles.